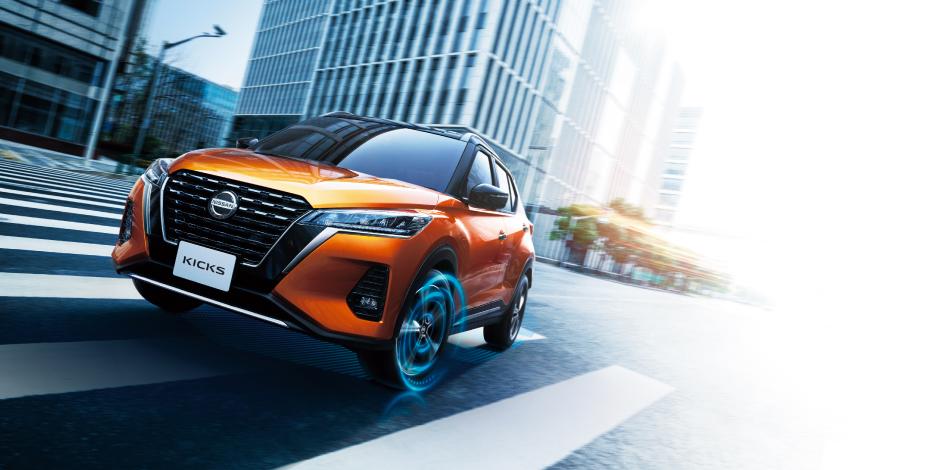 YOKOHAMA, Japan – The new Nissan Kicks, an SUV featuring fully electric motor drive and advanced driver assistance technology, will go on sale June 30.
The Kicks offers customers powerful, quiet driving and increased confidence on the road thanks to Nissan's e-POWER electrified powertrain and ProPILOT driver assistance, both standard features. Adding to the driving enjoyment is the ability to accelerate and decelerate by operating only the accelerator pedal. The Kicks sports an active, futuristic exterior design, while the elegant, roomy interior offers ample space for passengers and luggage.
The award-winning e-POWER system1 features an electric motor that delivers power directly to the wheels, while a gasoline engine generates electricity for the motor. Optimized timing control ensures the engine only runs when necessary, enhancing quietness.
"The Nissan Kicks adds an entirely new driving experience to the increasingly popular SUV segment of the Japanese market," said Nissan Executive Vice President Asako Hoshino. "It is born out of the groundbreaking ideas that inspire Nissan Intelligent Mobility – our vision of using cutting-edge technologies to bring excitement to the lives of as many people as possible."
The new Nissan Kicks e-POWER made its world premiere in Thailand in May. The launch marks another milestone in the expansion of Nissan's electrified vehicle lineup as the company rolls out more new electric cars and e-POWER models.
ProPILOT driver assistance technology
ProPILOT, another award-winning Nissan technology1, supports drivers by mitigating the stress of long-distance driving and congestion on highways. Using millimeter-wave radars to detect other vehicles, it helps drivers maintain the right distance to cars ahead, stay centered in their lane and activate braking when necessary.
Also standard is a system that automatically sends a report to police in the event of an accident, as well as a manual SOS call function for emergency situations. All models also come with Intelligent Emergency Braking, which monitors the area in front of the car and helps avoid or reduce damage caused by collisions with vehicles or pedestrians, as well as Emergency Assist for Pedal Misapplication.
Elegant, roomy interior
A sharp double V-motion grille, Nissan's distinctive floating-roof design, and futuristic LED headlamps give the Kicks a powerful, stylish exterior. Customers can choose from as many as 13 color variations, including four two-tone options.
The interior is characterized by a feeling of seamless elegance, with high-quality parts that exude a premium feel. The wide-angled, low-waistline front windows provide a free and open field of vision from the driver's seat. The rear seats offer 600 millimeters of knee room and 85 mm of headroom, providing ample space for adult passengers to stretch out and relax.
The trunk is also spacious, with a volume of 423 liters – enough for four medium-sized suitcases.2 The rear seats can easily be reclined to add even more luggage space.
The Kicks features Nissan's Zero Gravity seats, designed to enhance comfort and reduce fatigue. The car's highly rigid platform gives it superior stability and maneuverability, and it is able to perform exceptionally tight turns on narrow roads or in cramped parking lots.
1 Nissan's e-POWER technology was named Technology of the Year for 2019 by the Automotive Researchers' and Journalists' Conference of Japan.
ProPILOT driver assistance won the same award for 2017.
2 Estimated measurements of a medium-sized suitcase: 675 × 452 × 250 mm
Contact
Koji Okuda or Azusa Momose
+81 (0)45-523-5552
nissan_japan_communications@mail.nissan.co.jp
For more information about our products, services and commitment to sustainable mobility, visit
nissan-global.com. You can also follow us on Facebook, Instagram, Twitter and LinkedIn and see all our latest videos on YouTube.